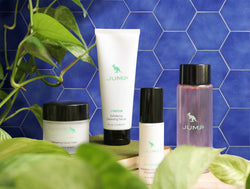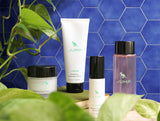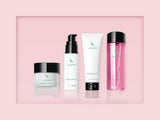 Buy 4 Product Gentle Skin Bundle And Save
Save money and get all four products curated for more gentle skin?
-Ideal for all skin including more gentle skin types.
-Dermatologist recommended to refine, refresh and hydrate.
-For use on your face and body.
*Benefits at 4 weeks*
1. Repairs, Fortifies and hydrates skin. 
2. Improvement in Acne and breakouts 
3. Reduction in blemishes and oily skin.
4. More Youthful and less wrinkled appearances
5. Improvement in dryness, cracking, and irritation.
Customer Reviews
09/26/2020
Emma S.
United States
10/10 recommend
I never really had a skin care routine until a friend recommended this product to me and i absolutely love it. For someone who works out a lot and just wants to keep their skin clear, this is perfect.
09/25/2020
Ashley F.
United States
too good to be true
I was constantly dealing with irritated patches, clogged pores, the works, but then a friend suggested I try Jump. Let me tell you...I am never using anything else. Whether I'm working out or not Jump has been such a refreshing change to my usual routine. The products are light and universal (my mom has more oily skin, my sister has dry skin, and I have somewhere in between, but it works on all of us). Jump uses natural and cleansing ingredients that have left my skin feeling brand new. 10/10!!! Where can I stock up???
09/17/2020
gary l.
United States
SOLID
Customer Service was a TEN!!!! The product was exactly as presented. I will definitely re-order.
08/31/2020
Sasha P.
United States
thank god for jump!!!
the best set i've ever purchased. i'm not going back!! i love finally having a line of products catered towards my active lifestyle!
08/26/2020
ivy B.
United States
GREAT find
I was hesitant to switch up my skincare routine but I heard about a friend using this so I gave it a try and I absolutely love it!! Makes my skin feel so clean and fresh after working out. It's been a little over three weeks and I am already so excited about the results. SO glad I made the switch