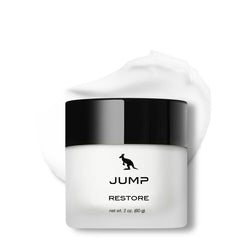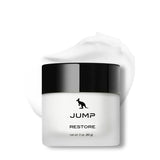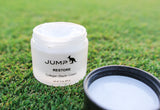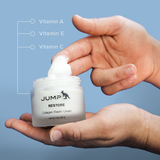 ELASTIN & COLLAGEN MOISTURIZING CREAM
PRODUCT HIGHLIGHTS:

Aroma-Neutral 

Product Texture: Rich emollient cream

Skin Feel:  lubricated and soothed.


YOU NEED THIS MOISTURIZING CREAM BECAUSE IT:

1. Helps to reduce appearance of fine lines and wrinkles.

2. Lubricates and aids in moisture content protection and inhibiting moisture loss. 

3. Provides anti-oxidant protection while conditioning skin.

SIZE & NOTABLES

2 oz. JAR
FORMULATED WITHOUT PARABENS.
Anytime throughout the day.
ELASTIN & COLLAGEN MOISTURIZING CREAM is a rich, emollient cream known to help plump, smooth, firm and improve moisture retention. Potent antioxidants are known to protect against future damage from environmental aggressors. Glycerin & Squalene have been known to protect skin from moisture loss. Aloe Barbadensis Extract is known to help soothe skin. Vitamins A, C & E are antioxidant vitamins and these vitamins are known to help protect cells from free radical damage.
Can apply directly over Stretch markS AND contains hydrolyzed collagen and hydrolyzed elastin.
Massage a small amount  into hydrated skin on the skin covering fatigued muscles. Avoid eye area.
Key Ingredients 
Collagen is important for your skin's structure so it appears more youthful and Elastin helps retain its' elasticity. 
Glycerin and Squalene are known to minimize irritation, chafing. Also, they have been known to protect skin from moisture loss, frictional irritation that results in rashes and chafing.
Aloe Barbadensis Extract has been known to soothe the skin.
Vitamins A, C & E have been known to condition skin & provide antioxidant protection against free radical damage (which occurs during intense prolonged exercise).
Water (Aqua), Glycerin, Cetearyl Alcohol, Polysorbate 60, Ethylhexyl Palmitate, Squalane, Stearic Acid, Sodium PCA, Dimethicone, Aloe Barbadensis Leaf Extract, Hydrolyzed Collagen, Hydrolyzed Elastin, Hydrolyzed Silk, Tocopheryl Acetate, Retinyl Palmitate, Ascorbyl Palmitate, Panthenol, Ethylhexylglycerin, Butylene Glycol, Sodium Hydroxide, o-Cymen-5-ol, Phenoxyethanol, Potassium Sorbate, Salicylic Acid, Sodium Benzoate
Customer Reviews
09/25/2020
Daniel A.
United States
Perfect for athletes
This product is extremely useful! It has really helped me improve the health of my skin overall and it feels great! Highly recommend!
09/25/2020
Alex C.
United States
Look and Feel Healthy!!
It's one thing to feel great because of a workout, but looking great because of this product just takes the feeling of healthiness to a whole new level! I recommend it to anyone who needs like their skin could use a more energetic and healthier look!
09/25/2020
Ira
United States
Highly recommend
This product really completes the entire kit. All moisture and restorative effects are locked in by Restore, leaving my skin feeling fresh.
09/25/2020
Alex
United States
Perfect finish for a skincare routine
this is my favorite product out of the jump kit. leaves my skin feeling super moisturized
09/25/2020
Amitej M.
United States
Feels great
I love putting this product on my skin, it feels properly moisturized and fresh without that oily feeling.