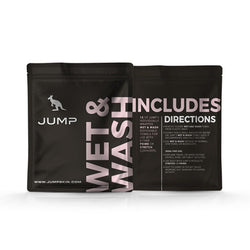 Wet & Wash Individually Wrapped Disposable Towels
WET AND WASH INCLUDES:

15 of JUMP'S INDIVIDUALLY WRAPPED WET AND WASH DISPOSABLE TOWELS FOR USE WITH EITHER PRIME OR STRETCH CLEANSERS.
USE OUR WET & WASH INSTEAD OF NORMAL CLUBHOUSE, GYM WASH CLOTH OR TOWEL
Customer Reviews
11/22/2020
Ginny L.
United States
Sturdy and reusable face towels that are compact
Surprisingly sturdy! I'm reusing it at home as an exfoliating wipe when I wash my face. Can't wait to bring a few in my gym bag when I return to the gym after pandemic resolves. Also looking forward to bringing some with me in future travels abroad.
09/25/2020
Ethan W.
United States
Yo this is icy
Quick and easy wash — insanely effective.
09/25/2020
Amitej M.
United States
Just right
I take this with me to every workout! Keeps my skin feeling so clean and isn't harsh like normal towels or cloths.
09/25/2020
Ashley F.
United States
was skeptical at first, but totally changes your running experience!
When I run I am always bothered by sweat getting into my eyes and whatnot. Whenever I would wipe it away I would get paranoid about the dirt from my hands...what was it doing to my skin? Turns out, it was a lot! Since I've started using these guys my skin has shown remarkable differences! They are so handy!
08/24/2020
Ivy
United States
So easy to use and effective!!
I started bringing these on my runs and I never regret it. Such a nice refreshing way to wipe away my sweat, and it definitely feels more sanitary.