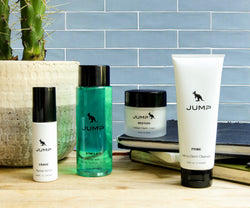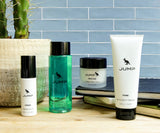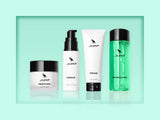 Buy 4 Product Rugged Skin Bundle & Save
Save money and get four products curated for mature tough skin? 
-Ideal for all skin including more rugged types.
-Dermatologist recommended to refine, refresh and hydrate.
-For use on your face and body.
*Benefits at 4 weeks*
1. Repairs, Fortifies and hydrates skin. 
2. Improvement in Acne and breakouts 
3. Reduction in blemishes and oily skin.
4. More Youthful and less wrinkled appearances
5. Improvement in dryness, cracking, and irritation.
Customer Reviews
09/27/2020
Julius M.
United States
It's actually so good
I'm not new to skincare. I've tried so many products from so many companies with different chemicals and all that stuff. After like a week of using this product (and I don't even work out that much) in the AM and PM, my skin is vibrant, smooth, no acne, and no longer red. If you do all the steps, it's a really easy routine and is a great self-care treatment. It makes you feel good! The moisturiser is incredibly cooling and makes my face feel plush. The cleanser is great and doesn't leave your face dry. The serum is light and airy. The toner smells amazing and really makes your skin shine. Love this stuff, truly.
09/25/2020
Daniel A.
United States
Great Product!
This workout kit is awesome! Everything included is extremely useful and really help my skin feel great before, during and after workouts. Highly recommend!
09/25/2020
Aroon N.
United States
Changed the skincare game
Insane experience and all in one package. I had never used skin care immediately after working out and the toner was insane.
09/25/2020
Alex C.
United States
All in One Package
Couldn't have asked for a better kit! You get a lot of versatility the kit and your skin just looks fantastic both before and after your workout session. Definitely recommend this to anyone!
09/25/2020
James
United States
Game Changer
An incredible set of products specifically engineered for working out - a true game changer in skincare. I've been using this product for a few weeks and my skin feels healthier and more refreshed than ever. Having a pre-workout product within the kit makes my skins feel great during workouts, while the post-workout set allows my skin and muscles to feels sharp yet relaxed.