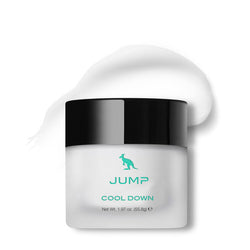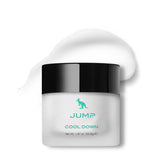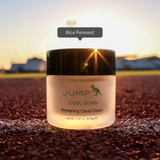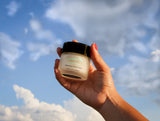 REFRESHING CLOUD CREAM MOISTURIZER
PRODUCT HIGHLIGHTS:

Aroma-Neutral with hints of Tea Plant & Butterfly Pea Flower Extract

Product Texture: Whipped airy texture with water burst activity

Skin Feel: Cooling sensation upon application.

YOU NEED THIS MOISTURIZER BECAUSE IT:

1. Perfects complexion and restores healthy appearance of skin. 

2. Hydrates, prevents water loss & restores volume and maintains skin moisture

3. Smooth skin with optical diffusers so imperfections appear diminished.

SIZE AND NOTABLES
1.97 oz. JAR

FORMULATED WITHOUT PARABENS, GLUTEN, PHTHALATES, OIL, FRAGRANCE, SULFATES, GMO, SILICONE, ALCOHOL, BARLEY, WHEAT, OR RYE. NOT TESTED ON ANIMALS, VEGAN, AND PROP 65 COMPLIANT.
Anytime throughout the day or in between workout days.
Glides easily over the many skin contours overlying the muscles of the face and body to provide refreshing bursts of hydration. Also, Rice Ferment is known to help diminish the appearance of imperfections while hydrating skin.
Massage a small amount into hydrated skin.
Key features 
Fermented Rice Water and Sodium Hyaluronate have been known to super hydrate skin.
Tea Plant & Butterfly Pea Flower Extract have been known to provide antioxidant & anti-inflammatory benefits.
Great for minimizing irritation, chafing, and more effects from exercise warranted Glycerin. Glycerin has been known to hydrate the skin and help it hold onto moisture; Also has been known to help shield skin from environmental sources of irritation.
Aqua/Water/Eau, Glycerin, Caprylic/Capric Triglyceride,Pentylene Glycol, Camellia Sinensis Leaf Extract, ClitoriaTernatea Flower Extract, Sodium Polyacrylate Starch, Saccharomyces/Rice Ferment Filtrate, Butylene Glycol, Silica, Polyaxamer 407, Menthoxypropanediol, Maltodextrin, Hydrogenated Phosphatidylcholine, Hydroxyethylcellulose, Sodium Acrylates Crosspolymer-2, Sodium Hyaluronate, Citric Acid, Hexylene Glycol, Ethylhexylglycerin, Potassium Sorbate, Caprylyl Glycol, Phenoxyethanol
Customer Reviews
11/22/2020
Ginny L.
United States
Cooling and hydrating. Feels like a cloud!
I'm pleasantly surprised by how light and cooling this cream feels on my skin. I first tested it on a small patch of my face and it did not break me out. I now use it all the time and just love how cooling it feels on my skin while hydrating it. The only thing is I wish the packaging was a bit easier to travel with. I'm constantly afraid I will break the glass jar.
09/25/2020
Ashley F.
United States
didn't know face products could smell this good
this stuff literally brings the best cooling sensation to your face...amazing for sensitive skin!
EB
09/17/2020
emile b.
United States
Amazing
Sooo refreshing and smooth. Post sweat inflammation = gone. Thank you Jump, you're perfect
08/31/2020
Sasha P.
United States
best brand switch I've made in a while!
I live a really active lifestyle so it's always hard balancing when and how much to wash my face throughout the day. I've never seen a brand specialize in a skincare routine centered around working out (most just say "apply in AM/PM daily"). I absolutely love the cloud cream! So little of it goes such a long way and it makes me feel refreshed after a long run. Thanks to Jump, I'm feeling and performing better than I ever have before!
08/24/2020
Jackson
United States
Fresh!
Not too heavy, feels great post workout, looks great hours later.